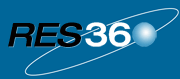 Welcome to RES360 - The Online 360 Appraisal System
360 appraisal is a core component in the effective development of personal, team and service practice within health care. 360 appraisal involves the evaluation of personal style and competence through a survey of colleagues working in a '360' capacity to the person being appraised. The Res360 appraisal system has been developed by Res Consortium as a convenient and simple system for the 360 appraisal of different senior doctor's working roles.
The system is based on e-mail and internet browser technology. This system is completely web-based and does not require any downloads or installations on your computer. Res360 has been designed to be used with only minimal technical skill or knowledge. Full technical support is provided. Roles available for appraisal in this version include Doctor as Clinician (for GMC revalidation), SAS Tutor, Consultant, Appraiser, Educational Supervisor and Medical Manager, Staff Grade and General Practitioner. There is also the option to use response cards and freepost envelopes to collect service user/patient feedback.
Res360 has been designed to be used within an existing doctor appraisal system, and should be included as part of a wider appraisal portfolio.
A demonstration site has been set up for prospective clients. Please contact us to request your demo username and password.
For Trusts and organisations requiring 360 appraisal training, workshops are also available.
You can register to use RES360 either via your Trust, or registering yourself by clicking on the 'New Subscriber Set up' link. This will give you access to an unlimited number of 360s in all the colleague roles. If your Trust does not hold a licence with us, patient feedback is still available to you and will cost £60; this can be purchased straight from your RES360 account.
Need More Info?
For pricing, to request a demo, Res360 orders and workshop booking, please call (01264) 726790 or email us on enquiries@res360.net